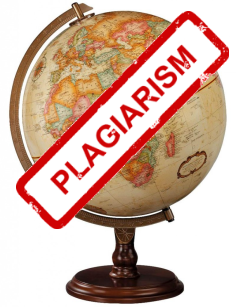 Just last month, the Grand Rabbi in France, Gilles Bernheim, resigned from his post after multiple plagiarism accusations and academic fraud. You can read more about his resignation here. On May 16, R.R. Reno, editor of First Things, a publication by The Institute on Religion and Public Life, reported that an article by Bernheim that they had published in March 2013 contained plagiarized material. The plagiarized sections came from multiple sources. Some material was used from an interview with Beatrice Bourges and other material was taken from a book by Fr. Joseph-Marie Verlinde. The material from Verlinde's book even removed the citations thus making what should be tertiary sources look like Bernheim's own ideas.
In Sandwich, Massachusetts on Cape Cod, the Cape Cod Times Online reports that the Rev. John E. McGinn has been placed on administrative leave from St. John's Episcopal Church after it was discovered that he has plagiarized up to 15 of his sermons dating back as far as 1996. Not only did he preach these sermons, but they were published in the church's newsletter and on their website in his name. The sermons were allegedly taken from an online subscription service called "Dynamic Preaching". Apparently, allegations were brought against him over a year ago in what was thought to be an isolated case, but additional cases have since been discovered. McGinn, aged 65, has stated that he now plans to retire.
Moving away from plagiarism in the religious world and moving on to the world of college sports, Fox Sports reports that Trae Golden, a leading player for the Tennessee Volunteers (University of Tennessee in Knoxville, TN) will be transferring schools at the end of the spring semester. The transfer comes after Golden has had academic problems including "repeated plagiarism". Golden has completed three years at Tennessee.
On May 10, 2013, the Irish Independent reported that Flan Garvey, chairman of the Institute of Technology Tralee, was cleared of earlier accusations that he had plagiarized portions of his 2008 dissertation. The External Investigations Panel working on the case announced that the plagiarism appeared to be unintentional and that Garvey's degree "was not obtained in a fraudulent manner". A corrigenda, a list of the errors and their corrections, will be added to the official copy of Garvey's thesis. This story is an excellent example of how isolated cases of apparent accidental plagiarism can be corrected and do not have to signal the end of a person's academic career.