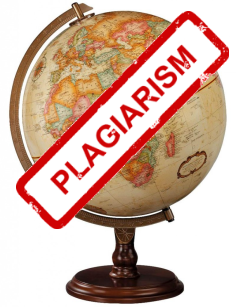 There have been a number of political figures and local leaders who have recently stepped down from their posts because of plagiarism accusations. The accused come from around the globe and the claims against them include passing off previously published material as their own, publishing material that was written by others, and self-plagiarism. In some cases, it may cost the accused not just their high-profile positions, but their reputations as well. In other cases, the final verdict is yet undecided.
First, in a rather high-profile case from Taiwan, the newly appointed defense minister stepped down from his post on August 6th, just six days after taking on the position. As reported in the Washington Post, Andrew Yang was an academic who had recently taken on the position of defense minister. He resigned from the position after admitting that he had published an article that was written by a ghostwriter. The article included some material that had been plagiarized from other sources. A new defense minister has been appointed.
On July 30, the German international media broadcaster, dw.de reported that an investigation of possible plagiarism has been launched against German parliamentary speaker Norbert Lammert. The accusations were made by an anonymous blogger who says that parts of Lammert's PhD dissertation are not his work. The anonymous blogger who brought the accusations to light is the same one who first accused then Education Minister Annette Schavan of plagiarism.  Those accusations eventually led to her resignation.  The end results of the case against Lammert remain to be seen.
In the United States, a Boston middle school professor, Jaime Moody, has resigned after it was discovered that she had multiple instances of plagiarism. According to the Boston Globe, the first accusations were made in July by a teacher at the school who had copied some text from a memo sent out by Moody into Google. The teacher quickly discovered that portions of the memo had been copied from an article in Forbes magazine. It was later discovered that Moody had also plagiarized portions of her application for promotion. The author of the Forbes article that Moody plagiarized wrote a very eloquent response that is about maintaining integrity in our work and our lives.
Finally, in an unfortunate case of self-plagiarism, an associate dean at Oakland University has stepped down from her administrative duties after it was discovered that research used in a published article that she had co-authored was used again in another published article. According to the Oakland Press, "Articles were redacted in both journals as a consequence, as well as published statements that the articles had been removed from the journals."