The news over the past two week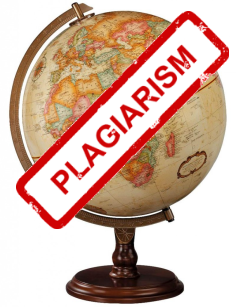 s has continued to bring several more stories of plagiarism. Two weeks ago, we told you about Korean cable television talk show host, Kim Mi-Kung's denial of plagiarism in her 2007 dissertation. It seems that the plagiarism accusations among popular celebrities in Korea did not end there. According to the globalpost.com, comedian and radio host, Kim Mi-hwa, has resigned from her radio job after admitting to plagiarizing her 2011 master's thesis. Korean actress Kim Hye-soo has also admitted to plagiarism and has returned her degree.
Haaretz.com reported this week that France's Chief Rabii Gilles Bernheim admits that there are plagiarized passages in his 2011 book entitled "Forty Jewish Meditations". Bernheim also admitted to using a ghostwriter without informing his publisher. He has apologized for the plagiarism in the book, and has asked that it be removed from bookstores as well as from his bibliography. I am reminded of Fox News's Juan Williams who blamed his researcher for the plagiarized material in his news story. I find Bernheim's reaction much more respectable. If a public figure is going to accept the accolades for another's work, then they must also be willing to accept the blame if there are problems due to the work.
In the United States, a professor from Towson University in Maryland has been accused of plagiarism in some of his published academic articles. According to the Baltimore Sun, Benjamin A. Neil is a legal affairs professor at Towson University and also served as the head of the city school ethics board. He has resigned from the ethics board, not because he is admitting guilt of plagiarism, but because he does not want the issue to be a distraction for the board. A librarian at another university made the accusations against Neil. Neil has denied any plagiarism saying that it is a matter of improperly crediting the work to its original source. The Baltimore Sun contacted some of the authors that Neil is accused of plagiarizing. They are accusing Neil of "lazy plagiarism" saying that had he spent just a little more time reviewing his work, he would have caught the citation errors. In the academic world, there is a great deal of pressure on faculty to publish works in academic journals – a phenomenon often referred to as "publish or perish". The Baltimore Sun article also discusses how pressure to publish may cause many writers to rush through their work and thus not verify that everything is properly cited.